There are wonderful spring hair color trends that can help every lady look gorgeous. When considering the list of shades to try, take into account different factors, such as skin shades, the color of your eyes, and, of course, your mood and preferences.
Healthy hair can withstand nearly any hair color change, so do not be afraid of experimenting and implementing unique ideas in the style. Going through various hair color great examples will surely help come up with interesting thoughts. Whether a girl prefers aggressive or cute hair colors, blond or dark shades, vibrant or tender choices, she will be able to find a perfect option.
1. Astonishing Chocolate Brunette — Go Yummy!
Rich chocolate hues have the power to turn Brunette hair into a gorgeous frame for almost any skin tone. Surely, girls will need to opt for different shades of brown to balance darker or paler complexions: warm tones add tan to cool skin, while ashy brown hues create a stunning contrast with warm undertones. Anyway, deep brown hair complements green and hazel eyes perfectly; so, if it is your case, don't hesitate! Want more reasons? Chocolate brunette has a natural look, which is in vogue today, but it is far more affordable and low-maintenance compared with many expensive brunette hair color trends. But ladies can have some fun by adding highlights to their, say, dark oak hair color or by asking their coiffeur for balayage. However, keep in mind that darker hair tends to deliver more sheen due to better reflection of light.
2. Have You Ever Thought of Having Copper Red Hair?
The super-bright shades of copper always get on the list of the best spring hair colors, but we do believe the chic flaming red copper deserves sporting it throughout the year. The more so, that by adjusting its intensity and playing with shades, girls can customize the copper red color to any skin tone, from the fair complexion of Nicole Kidman to the deep tan of Rihanna. Don't want to land in electric orange? No problem: a red-brown tone is a perfect hair color shade for brunettes searching for natural-looking red. And with those new trends towards color blends, women can creatively combine dark roots with coppery highlights or let a copper base melt into a fancy coral.
3. Create Your Own Killer Combo: Incredible Blonde Hair with Red Highlights
Speaking of fancy spring colors for hair, we are bound to share a secret here: ladies with a natural blonde can elevate the look with warm highlights. Tiny rose gold pieces will create a soft play of color, while chunky highlights of bold red will produce an eye-catching contrast. And dimension — you will have plenty of it. Yet, ladies do not need to be born a blonde to do red highlights. Honey blonde or a bit darker golden blonde hair color chimes well with warm red hues — just find your perfect shade to get a unique mix.
4. Turn into a Mysterious Queen with Amazing Black Cherry Hair Color
Black cherry shades look fantastic in dark hair. Whether hair is straight or curly, long or short, thick or thin, everyone can add a glamor twist to their look. Sweet black cherry color is not just a mix of red and purple. The hue can be customizable to make it burgundy, more violet, or create a new favorite shade, depending on individual factors and preferences. As for skin tones, anything is suitable because a dark black cherry tone can be made cooler or warmer.
5. Become Unforgettable with Bombshell Aubergine Hair Color
Aubergine is a bright red hair color with glossy purple undertones. The number of options to pick from is large, such as dark ombre, highlights, and more. Aubergine hair dye is not expected to cause any damage; so, whether it is short blond or medium brown hair color, trying something elegant and coquettish at the same time may be a good idea for a new season.
While this gorgeous color looks awesome, it requires high maintenance. In a few weeks after dyeing, the color starts losing its vibrancy. This means that it will require refreshment. It is possible to add new shades the next time.
6. Melted Caramel Balayage for Charming Appearance
Caramel tones look fabulous on women with dark hair color. It is an optimal option for them to go lighter without becoming blonde. Face framing balayage is ideal for a subtle fashion. The color melting allows enjoying a delicious color blend.
The light tones can be chosen, depending on the colors of skills and eyes. Those can be golden highlights for a brighter appearance or natural highlights for a gentle look. Melted caramel balayage can create different styles. It is up to the lady how to look — a bit chaotic, cute, gentle, etc.
7. Stay Gorgeous with Flattering Inky Black Hair Color
Inky black shades are easy to achieve with any hair and color. This solid color creates a look of a night queen, regardless of the length of the hair. Girls can dye the whole head, or they can opt for other interesting techniques, such as leaving some part of their hair untouched to create a natural base with a few accents. Black is a natural color of hair for many nations. However, it may be suitable virtually for everyone regardless of the color of skin and eyes.
8. Shine Every Day with Glossy Chestnut Brown hair
Eye-catching chestnut hair color has a beautiful silky look. If a lady wishes to add some sun to her hair, it may be the right choice. It is possible to achieve a wonderful natural hair color with lovely warm shades. Every girl will look like a real lady with such a hairstyle. Also, hair with glossy shade looks strong and healthy.
9. Add a New Twist with Trendy Dark Auburn Hair Color
Didn't find the previous red-themed ideas impressive? What about softer red-brown colors? Auburn made a sharp come-back the past year and brought some updates, which are still trending. From medium ginger and dirty auburn to violet or even burgundy tones — we have an abundance of dark auburn shades to complement most skin tones and bring out eyes with some warmth in them. And although the color looks rich and silky when done all over the head, it is possible to get it infused with sun-kissed highlights or, vice versa, weave it into a warm brown base.
10. Express Yourself through Multicolored Hair
Multi-color hair is not something ordinary. Rainbow hair color will quickly draw attention. The combination of funky hair colors will look amazing regardless of hairstyle and hair length. However, it is unnecessary to use only bright colors.
Baby blue hair with shades of white and other light colors will make every lady look like an angel. It can be different variations with strawberry blonde, brown, and other colors. Dyeing is possible in various ways, such as layers, ombre, and others.
High maintenance may be necessary, depending on the technique used. However, it is possible to shadow roots if a girl does not want to bother with that so much.
11. Be on the Bright Side — Try Purple Hair
Shades of purple hair allow creating different images. It can be a two-toned gray hair that will make you a character from the fantasy world or subtle purple highlights to add a bit of naughtiness to the elegant look. Such an option suits any age group, even women over 50.
12. Turn into a Beautiful mermaid with Weightless light pink hair color
Pink hair also belongs to new cold trends this season. It is possible to experiment with pink shades to pick a perfect option for dark or pale skin. Such hair is a choice for many favorite celebs, such as Carly Rae Jepsen, Demi Lovato, and others. It can also be seen in women over 50 who wish to add something girlish to their looks.
13. Trying Astonishing Two Tone Hair Color Combinations
New trendy hairstyles imply combining two colors. This option is suitable for blonde, brunette, and black hairstyles. Whether a lady wants to create natural shades or pick neon colors, the results may be fantastic. Simply pick your favorite hair colors and decide how to combine them.
14. Upgrade Your Hair by Adding Lavender Hints
Lavender hair dye color can be used as a subtle accent on any base. Short haircuts and long hairs will surely win from using beautiful lavender highlights. In fact, many hair products contain lavender because it can be useful. Pick a tone depending on the skin and eyes. For example, choose silver lavender hair or something warmer.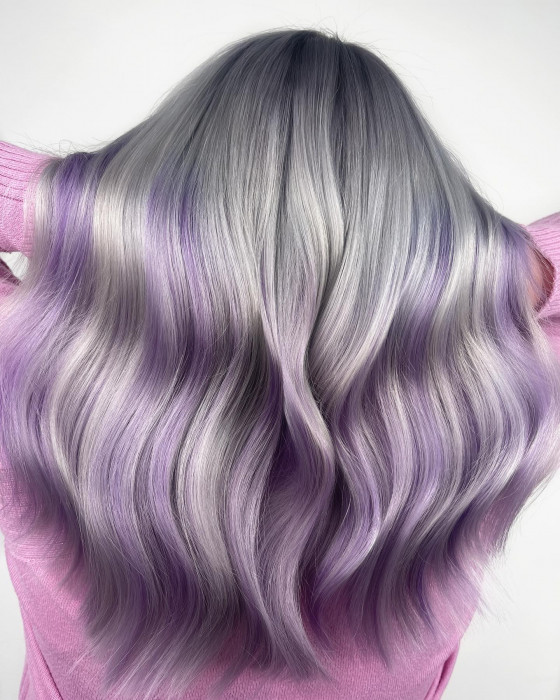 15. Unique Hidden Color Ideas. Would you go for it?
The latest trend to express your uniqueness is to hide colored layers or strands under the top layers. This technique perfectly works on both short hair and long hair. There are plenty of amazing hidden color ideas. It is up to a lady whether she wishes to use bright colors or calm colors. Mix different colors and enjoy a fantastic result!
16. Shadow Root Hair Color for Stunning Look and Low Maintenance
It is a low-maintenance color technique suitable for any hair type. Women can shadow roots using balayage highlights or do something else. It will look awesome on both curly hair and straight hair. The transition between the two colors is subtle. A deeper color will make an impression of strong roots while using a lighter color will create soft roots.
17. Keep Your Manual Color but Make It "Wow"
Natural hair color is always in trend as long as it has a good look. Get a nice haircut and use the right hair products. It is easy to find a natural hair dye. The closer it is to the natural hair, the better results can be achieved. So, let natural blonde stay blond, natural brunette remain brunette, and natural red will be red!
18. Platinum Blonde Makes You Look Stunning
This choice remains trendy for both short hair and long hair. Everyone can try on this interesting option; however, it is a better choice for those with pale skin. Women with darker skin can add some honey highlights to make them look softer and warmer.
19. Add the Cherry on the Cake — Try Lilac Hair Color
Lilac highlights will make everyone look charming regardless of the clothes they are wearing. Lilac balayage is a good choice if a lady does not want to make all of her hair in this color at once. There are different Lilac hues to pick from, such as silver lilac, smoky lilac hair color, and others.
20. Contrasting Hair Colors for Those Who Are Not Scared to Experiment
Two-toned hair with contrasting colors may create a stunning dramatic look. A lady can have black roots and blonde edges, for example. Or those can be yellow hair edges with brown tops. Decide on the variety of colors that you wish to use and the technique to apply. It will be easy to find the desired color, such as pink, blue, brown, or yellow hair dye.
21. Be Black-to-green Fade
Neon green hair color may seem to be a good choice for short hair, but it will also look fabulous on longer hair. If a lady wants to implement creative hair ideas, neon green and black hair may be exactly what she needs.
How Do I Prepare My Hair for Dying?
Here are the essential things that will help you achieve the desired result:
Do a test dyeing.
Use a clarifying shampoo the day before dyeing.
Use an effective conditioning mask.
How to Maintain Multicolored Hair?
Such hair requires high maintenance. Specialists suggest avoiding washing your hair too often to prevent too quick fading. One wash every three days would be enough.