Everyone loves bright summertime, but it also brings one more challenge we, ladies, need to cope with — apart from deciding on a mani, we have to invent toe nail designs. Luckily, nail artists never fail to supply us with versatile pedicure ideas for summer, from barely-there polishes to striking nail art full of drama.
This year is not an exception, and we can choose a delicate shade of mint and lilac or a juicy summer nail polish color like fiery red and rich fuchsia. We have combed through the Internet and arranged mainstream summer toe nail designs to make the process of picking a bit easier. Scroll down, find your next beautiful pedicure design, and feel free to wear flip-flops with the confidence of a top model marching a catwalk.
Juicy Toe Nail Designs for Summer
Nothing can draw as much attention to your feet as bright nail polish colors, which are more than appropriate in the summertime. Those who prefer sticking to everlasting classics should rock bubblegum pink, vibrant coral, or cherry red shades trending in any warm season.
If you are after the hottest trends and don't mind shocking the public, neon yellow or bold lime green will create an eye-popping colorful design on your toes. Choosing a joyful orange polish with a creamy texture is another fancy way to own stunning toenails this summer.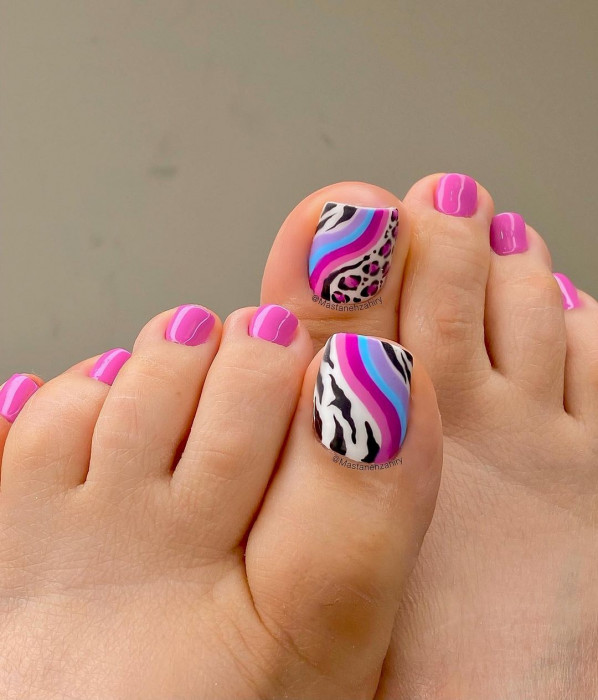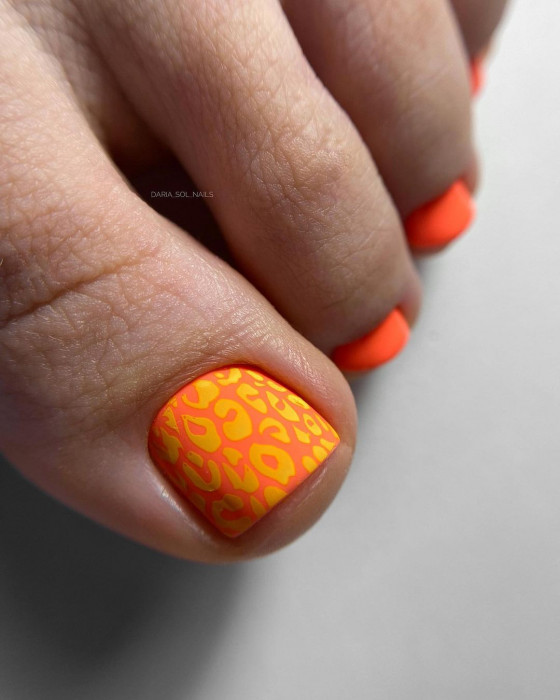 Elegant White Pedicure Designs
While our legs are getting covered with bronze under the hot summer sun, we are wondering how to play it up and which color is best for sandal season. But the answer is simple — cover your toes with a contrasting white to drive your tan into the spotlight.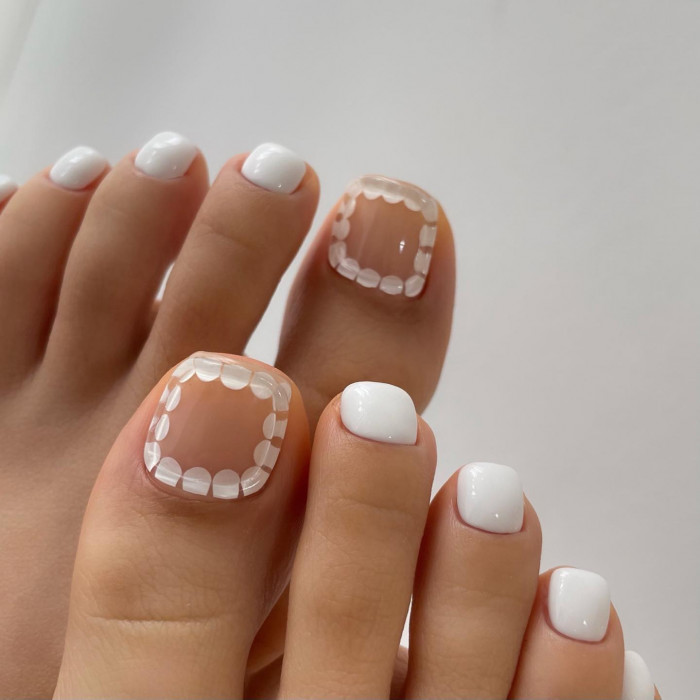 The latest white pedicure ideas include opaque pure-white polishes, which are friendly even to paler skin tones, and off-white shades like cream or eggshell. Surely, you are not limited to single-color coatings and are even encouraged to add a white stripes design to bold, pastel, and dark colors or, vice versa, paint shimmering or bright patterns on the milky background.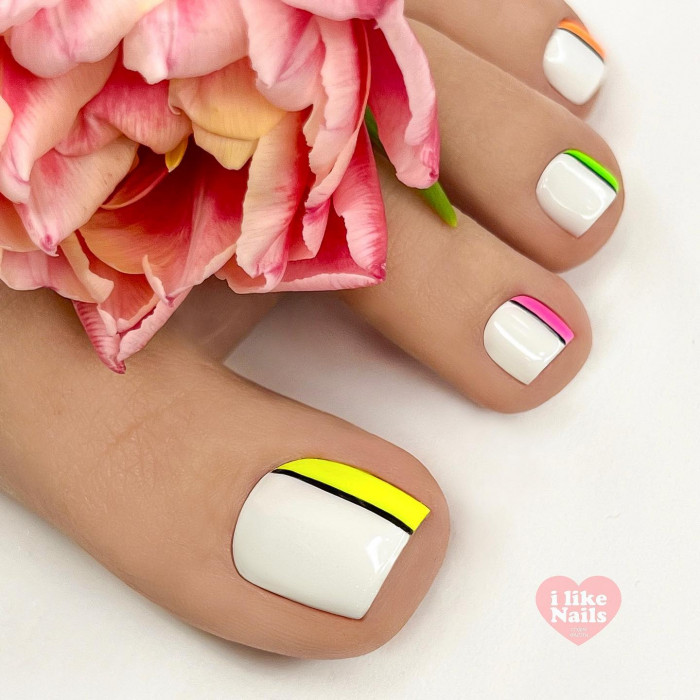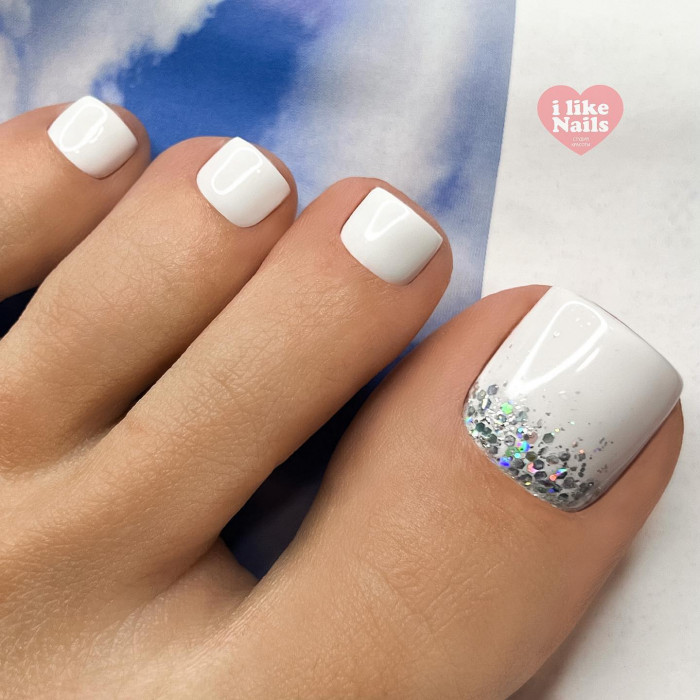 Creative French Pedicure Designs
Girls, let us rejoice! The popular French tip pedicure is officially transitioning to the current season, giving us more chances to experiment with color combinations. For daring ladies, a red polish with dramatic black tips or a yummy pink & purple scheme is among the best ideas for the summer season.
However, you can opt for a quieter color palette with a white base coat and glitter tips or their upside-down version. Besides, the floral design on a big toe creates a nice accent even on pastel shades and chimes well with the French.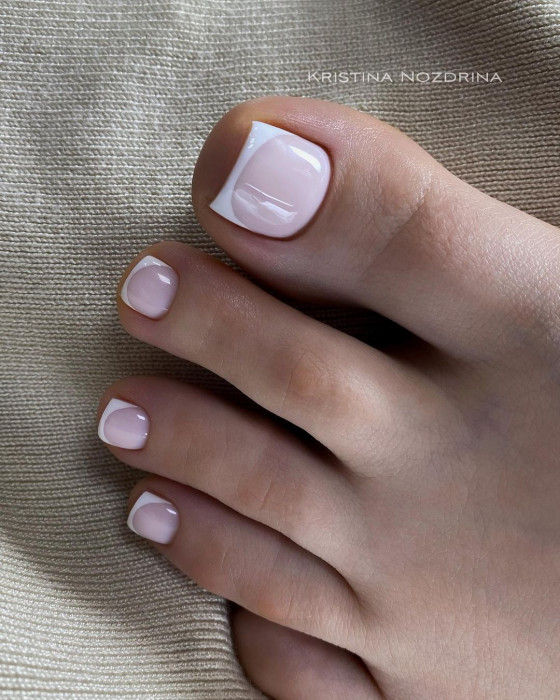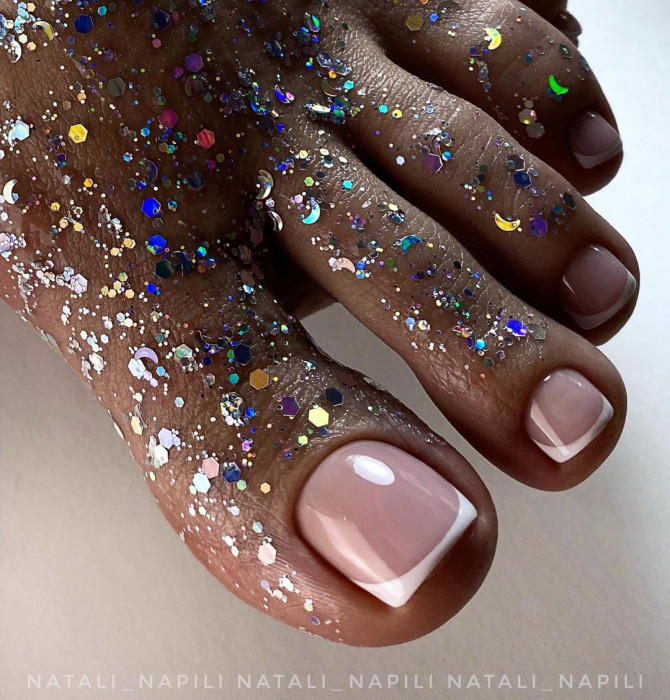 Versatile Pink Pedicure Ideas
Hot pink pedicure ideas range from elegant soft hues to '80s neon shades, from plain coating to eye-catching designs. Light pinks gentle the square toe nails shape, which can otherwise look too short and chunky. Opaque pale pink polishes also fit perfectly into the traditional French pedicure with white tips.
Vibrant pink toenails, in their turn, pair well with fashionable animal prints and geometric patterns placed on accent nails. If looking for a summer toe nail design other than Barbie's fav, consider dimensional metallic prints on a pink base or pastel pink & blue blends.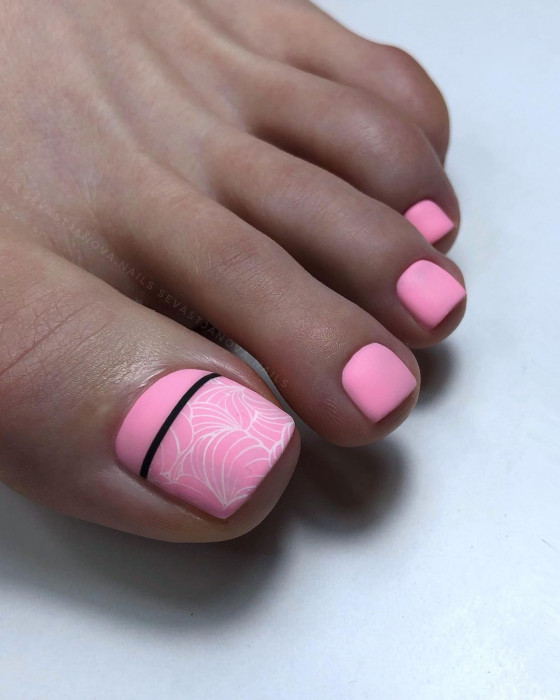 Sunset-Inspired Ombre Toe Nail Designs
Of course, a gradient effect painted on each and every toe can seem overwhelming, the more so that the nail beds are too tiny to show all the beauty of these color transitions. Yet, you are not required to have matching ombre nails throughout all the toes as is often the case with mani.
Gorgeous summer toe nail designs can be created with accent nails colored in a sunset or sunrise-inspired ombre — soft pink melting into the blue of the sea or blush pink blending into sunny orange. It doesn't matter whether you choose a matte or gloss finish since summer vibes won't go anywhere.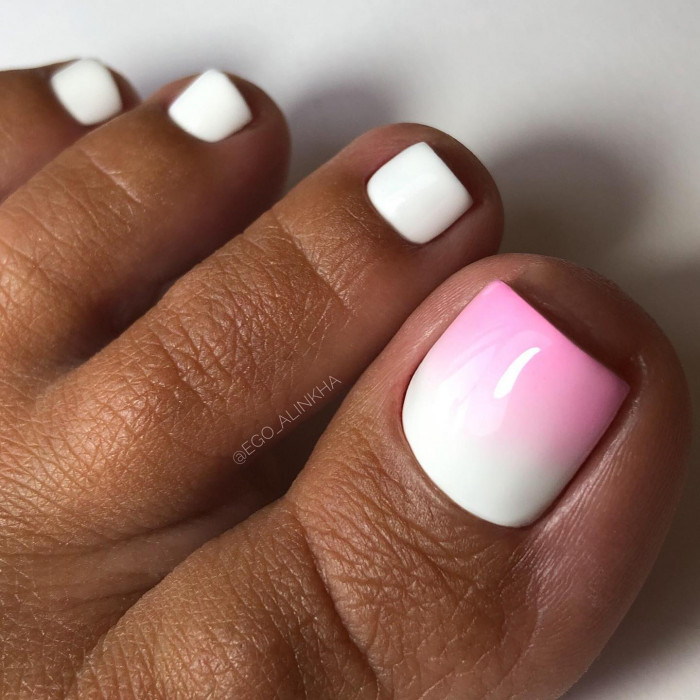 Dainty Matte Toe Nails with and without Decor
Matte finishes have the power to drastically change the feel of your nail design, giving it an exquisite, porcelain-like texture. Just select any design for your big toe, cover all other nails with a solid color, and apply a matte top coat on the toes — voila, you are ready to steal the spotlight.
If you are short of unique pedicure ideas, a metal-coated flower on a neutral base or a yellow-to-lavender ombre will give you a clue. But sometimes less is more, and it's enough to pair a bright nail polish with a matte finish to arrive at a far more interesting and expensive look.
Flaming-Red Pedicure Design Ideas
Can you imagine something sexier than wearing open-toed shoes with intense reds? Not only does the dazzling red pedicure look alluring, but it is also on-trend. In particular, classic deep red '90s nails are in for the summer and even beyond it.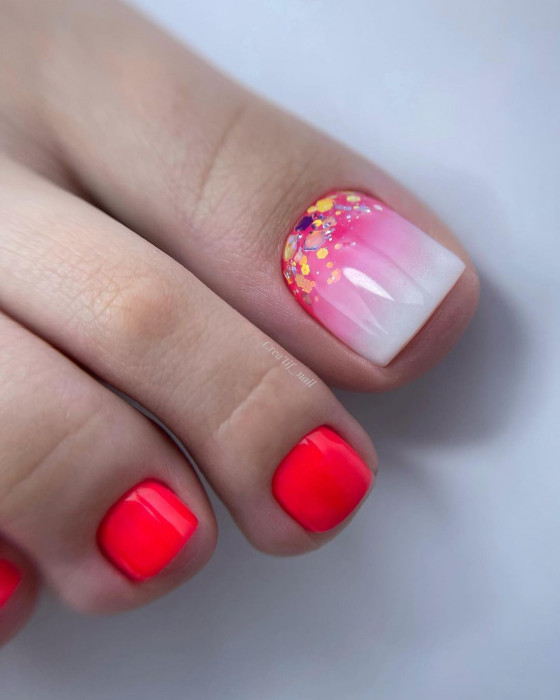 Choose a medium-dark shade of red-orange if you want to end up with a red pedicure that suits all skin tones. Those who don't want to settle with a one-colored pedi can ask for cute summer toe nail designs with watermelons or luxurious rhinestone-embellished red nails.
Fresh Green Pedicure Designs
Green is totally underestimated as a dominant color for a pedicure although we cannot think of botanicals painted without it. So, it's high time to combine a plain green nail polish with a unique design on the big toe, for example, green branches, to don a summer-friendly pedi.
You can also mix and match dark, pastel, and bright nail colors of the green family to land a cool abstract print or something resembling vintage Tiffany glass. And, obviously, the retro trend offers bright neon colors for pedicure designs, either single-tone or complemented with other colors.
Dramatic Black Pedicure Ideas
Black is not for the fainthearted, but if you are a cool girl striving to stand out from the crowd a classy black nail polish should be on your list. But are there any interesting ideas other than black and white stripes? Yes! A-list nail artists say that black French tip pedicure will be the season's biggie.
Paint jet-black tips with sharp lines over a nude base to get a feminine pedicure with a strong statement. Alternative summer toe nail designs are based on combinations with metallic elements, for example, silver stars against a black base.
Dazzling Pedicure with Glitter Designs
Glitter toenails are the new black, and we can see them everywhere in many inspiring designs, both striking and soft. Namely, white pedicure with glitter strips is gaining momentum, sometimes amplified with additional metallic embellishments for a funnier or more elaborated look.
Another trend is using clear nail polish with glitter stickers and prints, such as golden leaves. However, you are free to choose gold or silver glitter as it deems fit — the main idea is to add a refreshing touch of glow to your toenails.
Beach-Themed Toenail Designs
Certainly, we cannot miss out on the chance to sport playful beach-themed designs like exotic palm trees on a big toe or cute sea stars scattered across nails. Those who are looking for more elegant pedicure ideas are welcomed to adorn their nails with abstract waves of all kinds, but inserting specks of glitter into the blue and green of the sea is a must. Anchors, lifebuoys, sunbeds, shells, and easily recognizable sea animals are all suitable for thematic toe nail designs, whether hand-painted or attached as decals.
Blue Shades for Toe Nail Designs
Meanwhile, a deep blue nail polish reminding us of seaside vacations is not our only option for this season. A delicate icy blue shade flatters tanned skin and brings a bit of freshness into the summer heat.
Choose a saturated cerulean for matching manicure and pedicure where toes are all polished with this bold color while fingers come in neutrals with only accents styled in the blue. And, of course, you can connect stunning designs on the big toenails with these hot and happening hues.
Sunny Yellow Pedicure for Summer
What color can be more applicable to a bright summer pedicure design than sunshiny yellow? This season offers a couple of new shades, including punchy neon yellow and gourmet mustard yellow. The first one is perfect for creating a cute toe nail design with cartoon stickers on the big toe or hand-painted smiley faces.
The latter can serve as a great canvas for a chic design with a matte finish and rhinestones on the big toe. Incorporating yellow into an ombre scheme or a rainbow pattern is another way to go.
Classic Black and White Toe Nail Designs
We adore this high-contrast color combination for delivering a stylish look with a minimalist approach. It suits any open-toe shoes and complements different skin tones while coming in many variations. In addition to classy black and white stripes, which can be done in various widths and run in various directions, we would like to remind you of an eternal marble texture, a booming cow print, and sophisticated geometric nail art.
You can select a pretty toenail design as an accent and color other nails black or white on both feet or give each foot one of the colors.
Royal Chic in Purple Pedicure Ideas
With Veri Peri announced as the color of 2022, we should hunt for purple hues in nail polishes and incorporate this regal color into our pedicures heavily. Some nail artists recommend choosing a pastel purple nail polish that matches a weightless summer dress and emphasizes the glow of bronze skin.
Others suggest asking for a ritzy smokey purple, which darkness can be gracefully illuminated with a silver or gold foil design. You can also opt for florals made of various purple shades and place this cute design on the big toe rather than committing to a full-on scheme.
Minimalist Nude Toe Nail Designs
Natural looks remain in vogue, prompting us to wear beige, peach, and brownish hues for a neat summer pedicure. As the summer unfolds and our legs get tanned, it makes sense to consider rich sepia or brown with rosy undertones as a base for a minimalistic pedicure design with a twist like the black-tips French.
Neutral pastel nail colors work well for a vast variety of accent designs, making them really pop. Don't know what to paint on the big toe? Draw white squares on a nude base, and you are a chess queen!
Nautical Toe Nail Designs for Sea-Lovers
If you are a true fan of diving, sailing, swimming, or at least sunbathing on the beach, you need the nautical theme to express your passion for the sea. In this case, the easiest pedicure paint ideas will include horizontal blue and white stripes resembling a marinière and decals depicting an anchor, a mariner's compass, or a ship's wheel.
While popular elegant pedicure designs stick to mixing various shades of blue with white, golden, or silver, a bolder take on the theme couples blues with bright colors like orange and pink.
Attention-Getting Black and Yellow Toe Nails
Think of cheerful sunflowers shining out against a deep black background. Cool? Those who want to rock bright-color toenails this summer should adopt this vibrant color pallet.
Leopard prints, a yellow base with black French tips, and two-color ornaments are the hottest contrasting nail polish ideas. And since metallics are having a moment right now, the black & yellow scheme gives us one more opportunity to place a glamorous gold design on toes.
Fun Fruit Nails for Summer Vibes
Clearly, no summer can officially come into its own without fruits growing here and there, including our toenails. The simplest way to get vitaminized is by applying fruit-themed nail stickers on a pastel, white, or nude base. For example, we like yummy cherries, fleshy lemons, and juicy oranges on speckled white bases, whether they are covered with a matte or gloss finish.
Hand-painted summer toe nail designs can provide even more options for integrating fruits into rich and fancy bases since you can mix and match the shades to achieve the most balanced looks.
Unique Toe Nail Designs
If you are still not satisfied with our selection of cute summer pedicure ideas, we have something special in our back pocket. What about branded or lettered nails showing your personal attitude or mood? Or, maybe, you would like to wear whimsical bright colors like creamy squash, delicious pear, rich watermelon, or deep turquoise shades? Don't forget about voguish sparkling coatings, which range from rainbow confetti polishes to subtly shimmering colors. The bling trend can be adopted through gold glitter toe nail designs or tri-dimensional crystal nail art.
What is a professional pedicure?
Professional pedicure is not about just polishing your nails. It includes dead skin exfoliation, softening and pushing back the cuticles, cutting and shaping the nails, moisturizing the skin, and even messaging the feet. If required, an old polish will be removed, and your technician will decorate the toenails with a new design or just buff the surface to make the nails smoother.
How often should you get a pedicure?
Typically, nail art on toes lasts longer than manicures, so you will have to refresh your pedicure in four to six weeks, depending on how fast your toenails grow. However, this timeframe applies to healthy feet only since some problems, such as callus, require more frequent visits to a salon, every three to four weeks on average.