Chicken is a popular source of protein that is enjoyed by people all over the world. It is widely available, relatively inexpensive, and can be prepared in a variety of ways, making it a popular choice for many people. But beyond its taste and versatility, it is important to consider the nutritional value of chicken and whether it is a healthy choice for you.
In terms of its nutritional value, chicken is a good source of protein, providing about 26 grams of protein per 3.5 ounces (100 grams) of cooked chicken breast. It is also a good source of B vitamins, including niacin, vitamin B6, and vitamin B12, which are important for energy production, brain function, and the formation of red blood cells. Chicken also contains minerals such as selenium, phosphorus, and zinc, which are essential for maintaining healthy bones, teeth, and immune function.
However, it is important to note that the nutritional value of chicken can vary depending on how it is prepared. For example, skinless chicken breasts are generally leaner than chicken thighs, which contain more fat and calories. Additionally, the nutritional value of chicken can be affected by the way it is cooked. For example, fried chicken is higher in fat and calories than roasted or grilled chicken, and breaded and battered chicken may have added fat and calories from the breading or batter.
Despite its nutritional benefits, there are also some potential health concerns associated with chicken. One concern is the risk of food poisoning from bacteria such as salmonella, which can be present in raw chicken. It is important to handle and prepare chicken safely by washing your hands and utensils before and after handling raw chicken and cooking it to a safe internal temperature of at least 165°F to kill any harmful bacteria.
Another potential concern is the use of antibiotics in chicken production. Some chicken producers use antibiotics to prevent disease and promote growth in their chickens. While the use of antibiotics is regulated by the government, there is an ongoing debate about the potential risks and benefits of this practice. Some experts believe that the overuse of antibiotics in animal agriculture may contribute to the development of antibiotic-resistant bacteria, which can pose a threat to human health.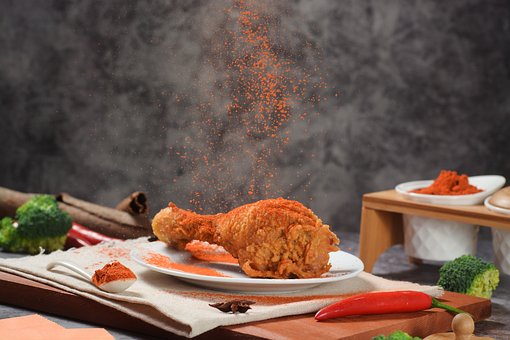 In addition to these concerns, some people may choose to avoid chicken for ethical or environmental reasons. For example, some people may prefer to avoid eating chicken that has been raised in crowded or inhumane conditions or may prefer to choose chicken that has been raised using more environmentally sustainable methods.
Overall, chicken can be a healthy and nutritious choice as part of a balanced diet, as long as it is prepared and handled safely and responsibly. It is a good source of protein and essential nutrients, but it is important to consider the potential health and environmental implications of chicken production and consumption. If you have specific concerns about the nutritional value of chicken or any other aspect of your diet, it is always a good idea to consult with a healthcare professional or a registered dietitian.