Have you ever thought about juicing, but weren't sure where to begin? These juice recipes combine a healthy balance of fruits and vegetables that are packed with essential nutrients that will detox your body and help you lose weight. If you drink the detox juice on an empty stomach, especially first thing in the morning, your body will absorb the vitamins and minerals easier. Each makes two servings that you should enjoy chilled. They have minimal ingredients and only about ten minutes to prepare. Check out these detox juices that you should start drinking today.
The Ultimate Green Detox Juice
Most people think of green juice when it comes to detox, and for a good reason. One of the most popular juice recipes turns green thanks to ingredients like three leafless celery stalks, a cucumber, and eight leaves of kale. However, you also will blend a balance of fruits, which will make the drink go down smooth. Peel a half lemon, toss in a piece of fresh ginger, and add at least two green apples, cut in half, for sweetness. Apples are loaded with Vitamin C and beneficial polyphenols. A sprig of mint will also make this green detox juice extra tasty, too.
Tropical Carrot-Apple Detox Juice
In keeping with the sweetness of apples, this beverage calls for a large apple and a quarter can of pineapple chunks or about 15 ounces. Try to choose a firm apple because it will create clearer juice. Also, cut it into quarters before you put it into the blender. Obviously, the orange-ness comes from the two large carrots. This vegetable is an excellent source of vitamin A, vitamin K, and multiple B vitamins as well as potassium and beta-carotene. Don't forget two pieces of fresh ginger to make this beverage complete.
Zesty Lemon-Apple Detox Juice
This tasty treat is perfect for breakfast. All you need is two lemons that are peeled and halved along with four apples quartered. These fruits are rich in antioxidants, which fight off free radicals that cause cell damage. To make it a balanced meal, cut two cucumbers in half and throw them in the blender, too. Cucumbers are a great source of vitamin K. Simply add a cup of water and you are on your way to a delicious drink to jumpstart your day.
Red Beet Detox Juice
This detox juice recipe is super easy. Like the others, it has a nice mix of fruits and vegetables let not only taste great but are healthy. However, this simple drink does not require cutting or peeling. Throw in two lemons, two apples, and two carrots into the blender. The zesty lemons and sweet apples will tickle your taste buds. The difference with this detox juice is the addition of two beets for a reddish treat full of folate, potassium, manganese, iron, and vitamin C.
Spinach Lemonade Detox Juice
This green drink has a cup of spinach as the name suggests, but it also contains two celery stalks, and four leaves of kale, which has a very low-calorie count. Kale is actually one of the most nutrient-dense foods. You also need a piece of ginger, one lemon, and two apples to make the lemonade. If you have a bit of a sweet tooth, you can drizzle a little honey, too.
Orange Dreamsicle Detox Juice
This drink is more like a dessert! If you love those tasty ice cream bars, then you have to try this detox juice. You can even pour it into molds and freeze it. You need two medium apples and three stalks of celery, but the secret is in the two medium pears and one peeled orange. The pears and orange are rich in vitamin K, vitamin C, copper, and potassium. Another orange ingredient is a five-inch-long sweet potato, which has a plethora of health benefits on its own.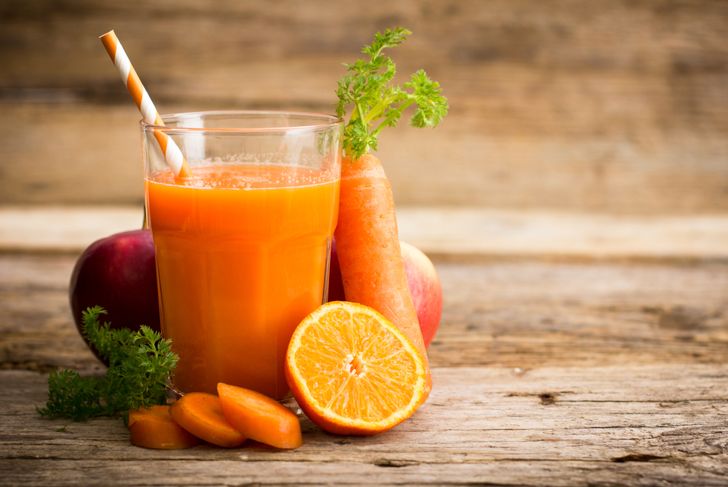 Green Ginger Ale Detox Juice
If you have an upset stomach, this detox juice is the way to go. The magical spice of ginger will help cure and prevent nausea caused by morning sickness, chemotherapy, seasickness, and other common forms of the stomach bug. You need one piece of ginger root about one inch in diameter along with one cup of spinach, a cucumber, and two celery stalks. Apples cut up three medium apples and throw in a peeled lime. This detox juice tastes great and will be you feel better.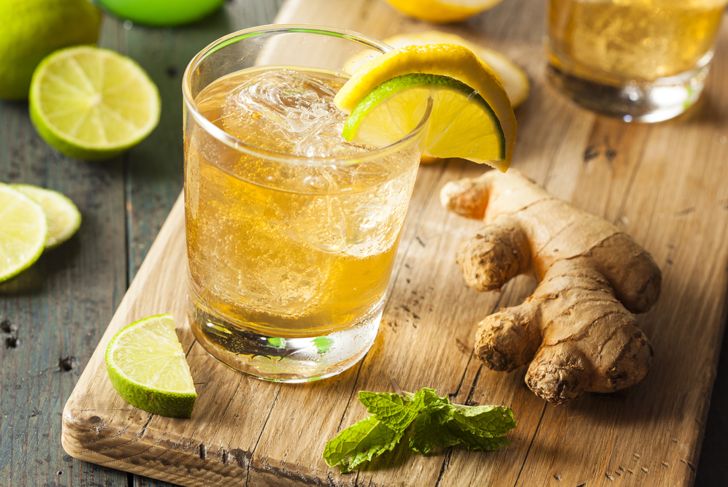 Allergy Season Detox Juice
You do not have to suffer through allergy season alone. If you are searching for a natural way to combat the annual symptoms, then make this tasty recipe packed with vitamin C fruits like a cup of pineapples, a cup of seedless grapes, and one lemon. It also calls for one apple and one cucumber. A half cup of parsley is a rich source of vitamin C as well as vitamin K, vitamin A, iron, and folate. Toss in a mint sprig if you prefer the flavor.
Kid-Friendly Green Detox Juice
Do you and your children both need to get on the health train? Skip sugary juices and try this fun detox juice instead. With fruits like two peeled oranges, one peeled lemon, and one quartered green apple, they won't even taste the hidden vegetables. The green color comes from a cup of baby spinach and one kale leaf, which is packed with vitamins and minerals including folic acid, iron, calcium, vitamin C, and vitamin K.
Anti-Inflammatory Detox Juice
This recipe has many familiar ingredients including four carrots, three celery stalks, and a half of lemon. However, it also calls for two centimeters of fresh turmeric. This spice can help reduce inflammation, which can lead to arthritis, chronic pain, high cholesterol, and other stomach ailments. Don't forget a piece of fresh ginger and one orange to make this healthy detox juice complete.
Alkaline Boost Detox Juice
If you want to incorporate a drink into your alkaline diet, this juice recipe has some of the essentials. You still need the basics like a half cucumber, two celery stalks, and one green apple. However, this detox juice calls for a cup of lettuce and a cup of broccoli as well as half a lime. When you buffer the acids already in your body with the correct foods, it will boost your energy, preserve your muscle mass, and help protect against diabetes, cardiovascular disease, and chronic kidney disease.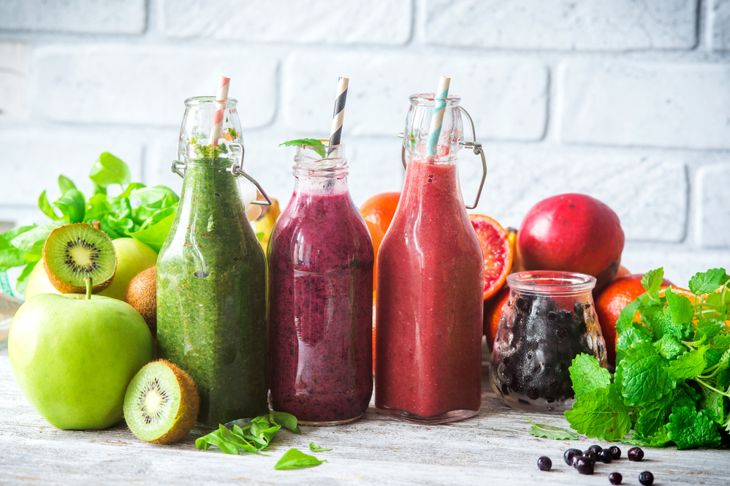 Basic Detox Juice
If you are reading this list and notice there are a couple of main ingredients in each detox juice; you are a good observer. If you are just starting out with your detox journey, you can try this easy recipe. All you need is two medium apples, three medium carrots, and four celery stalks. They each have health benefits from improving eye health to lowering cholesterol levels. Of course, you can add your favorite fruit flavors or healthy vegetables the more you mix. Happy juicing!