Diabetes is a chronic health condition that affects millions of people worldwide. It is characterized by high levels of glucose in the blood, which can cause a range of health problems over time. In men, diabetes can cause a number of symptoms and complications, some of which are unique to this population. In this article, we will discuss the symptoms of diabetes in men and the available treatments for this condition.
Symptoms of Diabetes in Men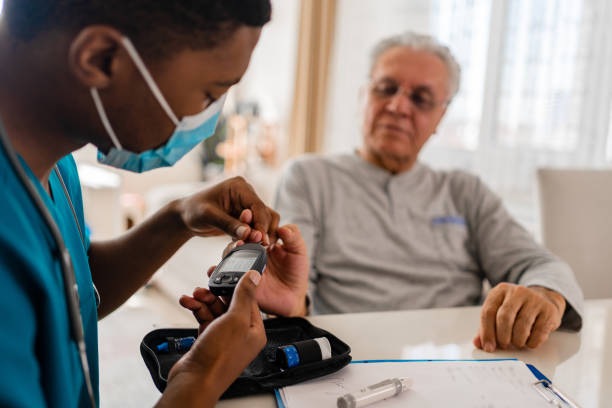 The symptoms of diabetes in men can vary, but some of the most common include:
Increased thirst and hunger: Men with diabetes may experience frequent thirst and hunger, even if they have recently eaten. This is because their body is not able to properly use the glucose that is present in the blood, leading to feelings of hunger and thirst.
Frequent urination: High levels of glucose in the blood can cause the body to produce more urine than normal. This can lead to frequent urination, particularly during the night.
Fatigue: Men with diabetes may experience fatigue and low energy levels, even if they are eating a healthy diet and getting enough sleep.
Blurred vision: High blood sugar levels can cause fluid to be pulled from the lenses of the eyes, leading to blurred vision.
Slow healing of cuts and wounds: Diabetes can impair the body's ability to heal, causing cuts, bruises, and other wounds to heal more slowly.
Numbness or tingling in the extremities: Over time, high blood sugar levels can damage the nerves, leading to numbness or tingling in the hands and feet.
Erectile dysfunction: In some men, diabetes can cause erectile dysfunction, making it difficult to achieve or maintain an erection.
Treatment for Diabetes in Men
There is no cure for diabetes, but there are several effective treatments that can help men manage their symptoms and prevent complications. Some of the most common treatments for diabetes in men include:
Lifestyle changes: Making healthy lifestyle choices, such as eating a balanced diet, getting regular physical activity, and quitting smoking, can help to manage the symptoms of diabetes.
Medications: There are several medications that can help to lower blood sugar levels, including metformin, sulfonylureas, DPP-4 inhibitors, and GLP-1 receptor agonists.
Insulin therapy: For some men with diabetes, insulin therapy may be necessary in order to keep blood sugar levels under control. This can involve taking insulin injections or using an insulin pump.
Monitoring blood sugar levels: Regular monitoring of blood sugar levels is an important part of managing diabetes. This can be done with a simple blood glucose meter, and can help to identify any fluctuations in blood sugar levels.
Foot care: Proper foot care is important for men with diabetes, as high blood sugar levels can cause damage to the nerves and blood vessels in the feet. This can include wearing comfortable shoes, checking for cuts and wounds regularly, and maintaining good hygiene.
Regular check-ups: Regular check-ups with a doctor are important for men with diabetes, as they can help to monitor for any potential complications and make any necessary adjustments to treatment.
Conclusion
Diabetes is a chronic health condition that affects millions of men worldwide. It is characterized by high levels of glucose in the blood, which can cause a range of symptoms and complications. Some of the most common symptoms of diabetes in men include increased thirst and hunger, frequent urination, fatigue, blurred vision, slow healing of cuts and wounds, numbness or tingling in the extremities, and erectile