If you don't know which manicure to choose, consider white nail designs since they are always a great idea. A timeless classic on your nails suits any image and is wonderful for any nail length. Moreover, you can have such a mani for any occasion!
Gorgeous white nails will look amazing with any dress or a casual look. Maybe you have a special event soon? Choose the best shade of your wedding nails and proceed with a cute and discreet design, making an accent on your fantastic dress.
Are you searching for nice prom nails? White is a truly universal color, and there's always the opportunity to add an unusual art if you don't like monochrome manicures. Grab some ideas below and pick those you like most to show your nails technician.
1. Summer White Nail Designs
Summer is the time when we all avoid dark shades, so bright white nails are at the peak of their popularity. The diversity of nail art designs is enormous so that each lady can find something unique and stylish. Do you prefer acrylic or natural nails? Find a proper shape and look at some classy nails for the summer season we've prepared for you!
2. Acrylic White Nail Designs
Although acrylic nails are not so common, many women still prefer them to natural ones. As a rule, the main reason for making a long, extended manicure is the fragility of nails and the inability to grow their natural length. And, of course, white nail polish of all shades will look impressive on long nails.
If you want to make an interesting mani with some nice elements, but don't want it to be too bright, consider making an accent nail. Ladies prefer adding sparkles, rhinestones, stickers, and patterns on the ring finger. Find your great idea for pretty nails and enjoy a fantastic manicure!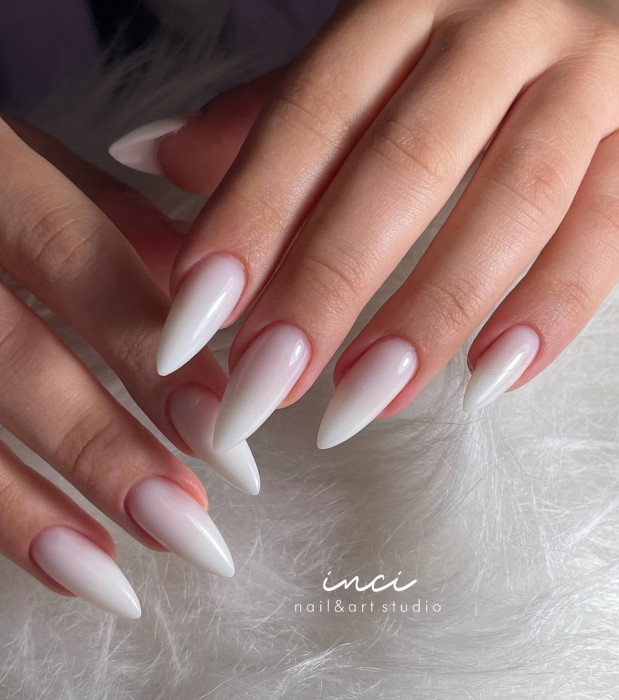 3. Coffin White Nails
Most ladies now prefer classic short square nails, but what to do if you have a different shape? Don't worry since white coffin nails are perfect for everybody! A white mani is the solution that is relevant to any dress code and style. Have you already made a collection of your favorite white nail designs? Pick any shade you like and decorate your nails with bright accents, perfect for summer. Long white nails are always a great idea!
4. Stiletto White Nails
Are you in the mood to enjoy one of the most amazing long white nail designs? Then you should pay attention to trendy acrylic nails. You can select between stiletto and coffin shapes of nails since both of them are at the peak of their popularity. If you used to have short nails, you might feel discomfort for the first time, but you'll quickly get used to your new manicure.
Don't worry about being irrelevant with your long manicure since this idea implies classic nails for any occasion. If you have a strict dress code in your office, don't add any bright elements. Just choose a nice white shade and enjoy your manicure.
5. Round White Nail Designs
You can easily make elegant nail art on round nails since this shape is considered the most feminine and laconic. While some ladies think that this option is only for older women, others enjoy their bright nails.
Turn on your imagination to get impressive summer nail art. For instance, many ladies prefer adding thematic summer patterns, such as fruits, sun, and other colorful stickers. A floral nail design is also in demand during the warm season since it always looks elegant and attractive. Search for some exciting ideas or come up with your own ones to add an impressive design to make your white manicure unique and trendy!
6. Short White Nails
Cute short nails are always in trend since a minimalistic manicure is at the peak of all top lists. Choose the best summer nail design according to your preferences – first, pick the shade you like most and decide whether you want to add some additional bright elements. Remember that simple white nails in monochrome color can be combined with any clothing style. And short white nails with glitter will help you shine under the sun and attract a lot of attention to your well-groomed hands.
7. Pink and White Nail Designs
If you would like to make a more unusual manicure, consider combining gorgeous white nails with a bright pink design. Choose the most suitable white base (the best option is focusing on your skin color) and decide which art you would like to add. For instance, minimalistic designs such as abstract lines and geometric figures are common alternatives.
Ladies who like sparkly manicures should consider white and pink nails with glitter, which will attractively shine under the summer sun. And if you are in the mood to make a bright mani, proceed with hot pink nails and add some stickers or patterns in white shades. You can even make such a nail art yourself without visiting a beauty salon.
8. Black and White Nail Designs
A combination of white and black nail polish is a timeless classic adored by millions of ladies. It's hard to find a person who doesn't like these colors, so there are numerous manicure ideas. For instance, you can pick the white nail polish you want and add French nail tips in black. Sounds extravagant, doesn't it? However, we guarantee that you'll receive dozens of admiring glances.
Black and white nails are always a great idea, suitable for any occasion. Moreover, it doesn't matter which clothing style you prefer since your manicure won't make any bright accents in the image. Of course, an unusual French manicure is not the only stylish option for modern ladies. Come up with your ideas, as the combination of these shades is a great solution for women with all nail shapes and lengths!
9. Red and White Nail Designs
Red and white nails are considered the most common manicure shades among ladies of all ages. Moreover, numerous shades are suiting any skin tone and color type. You won't be able to avoid red in your bright summer manicure, so just choose the one you like most and go on!
One of the freshest manicure ideas is making stamps on your nails. Pick a suitable white base and arm yourself with a special tool with the desired pattern. If you prefer doing a manicure at home, purchase it in a specialized store. Dip the stamp in the desired color and press on the nails. Don't forget to dry nails well in the lamp and cover them with a high-quality top. This idea is perfect for short or long nails!
10. Blue and White Nails
Nobody can deny that a combination of white and blue colors looks gorgeous. Deep blue nail polish is at the peak of all trends, suiting ladies with all skin shades. Suppose you would like to make a unique manicure that will attract a lot of attention, consider making white nail tips on a blue base. Although it may seem too unusual, there are some ladies who would love this idea.
White polish can be complemented with some minimalistic designs in blue, allowing you to get a special occasion manicure. You can also add some rhinestones to make shiny nail art. Another option is applying glitter on the ring finger, making a bright accent to your classic mani.
11. White and Gold Nail Designs
Do you like shiny manicure ideas? Then adding some gold foil to your favorite white nail designs is a great solution. Such an art looks strict but unusual, making it suitable for any occasion. Even if you go to the office every day and have a dress code, such a bright accent in your look is always a wonderful idea.
The foil of different colors is a great idea for white nail designs, and you can pick any shade you like. Ask your nail technician to add thin lines to the nail base to get a trendy mani this season. It's also worth noting that your perfect wedding nails can also be a cute accent with such a design.
12. White French Tip Nail Designs
Do you like classic French manicure? We are confident that it will never go out of fashion, allowing you to have well-groomed hands on any occasion. It doesn't matter whether you have long or short nails since this design is ideal for everybody.
If you are bored with the usual white French tip nails, choose any other color and proceed with an interesting mani. Multicolored French design is one of the trendiest options, allowing you to choose numerous shades of your nails. Every woman has faced a situation where she cannot decide on the desired shade, and here this design comes in handy. It suits multiple occasions and clothing styles, so don't forget about this idea!
13. Simple White Nail Designs
Are you looking for a minimalist white nail design? Pick a bold white you like and enjoy your perfect mani that suits all styles. And if you need a next-level manicure suiting any special occasion, consider adding some glitter or rhinestones on several fingers.
14. Nude and White Nail Designs
Do you want to make a universal, classy manicure? Pay attention to always winning nude nails suitable for any nail length and shape. Those tired of different nail colors will definitely like this idea, which is on the top list of all trends. Ladies who like classic French manicures can add white nail tips to get a strict and attractive design.
15. White Ombre Nails
A French manicure seems too simple and boring for many women, so which white nail designs are at the peak of modern trends? You should consider ombre nail art when choosing a classic manicure design. It looks fantastic both on acrylic and natural nails of any shape and length.
16. Milky White Nail Designs
There are hundreds of shades of white nail polish, so you'll find your ideal white nail art. Milky color is not as common as classic white, but many ladies prefer it to others since it's simple but attractive.
If you want to get a more unusual manicure, consider white and silver nails. This combination is always winning, and it's time to turn on your imagination! Make nails of different colors or draw patterns to get cute summer nails.
17. Matching White Manicure and Pedicure
Many ladies prefer having their manicure and pedicure in the same color, which is especially relevant in summer. And what is the gorgeous summer manicure idea? Of course, all shades of white nail polish look amazing in summer, suiting any occasion. A combination of white and silver nails will attract attention to your pretty fingers and match all looks. If you want to have a more complicated design, consider making French nail tips of different colors.
18. Matte White Nails
Matte nails are increasingly common among modern ladies since they are a stylish alternative to the usual glossy top. White nail designs are perfect for all nail shapes and skin colors, so choosing the most suitable shade is your main task. Add silver nail tips to get your fabulous manicure for special occasions, allowing you to be at the center of attention. And, of course, don't forget about this idea as your wedding nail art.
19. White Nails with Glitter
Glitter is the best way to get shiny nails and make your manicure sparkly and attractive. And the good news is that you can combine white with any other shades. For instance, white and gold nails are always a winning combination for bright personalities. Add some gold glitter to your ring finger if you don't want to make your manicure too glowing.
20. White Nails with Diamonds
Are you a fan of white nail designs? What about making your manicure shinier and more exciting? Pay attention to nails with rhinestones, allowing you to feel like a princess! It's worth noting that this idea is perfect both for your cute wedding nails and daily routine. Wear white nails and feel irresistible every day!
21. White and Silver Nails
Ladies adore silver nail designs since they are a great way to make an accent on their manicures and well-groomed hands. It doesn't matter whether you prefer short or long nails since silver glitter suits all women. In addition, such a design will look remarkable on some special occasions. For instance, it's an excellent prom nail idea.
22. White Nails with Butterflies
Are you in the mood to make an unusual white nail design? Adding several nail stickers is always a great idea. Many ladies prefer patterns with butterflies since they are perfect for summer. Floral drawings are also on the top list of trends, making them the common cute bright summer nail idea.
23. White Marble Nails
Have you ever tried marble design on white nails? It looks stunning and suits ladies with all nail lengths and shapes. White nail polish is the best base for such a design, and you can choose different nail colors for the pattern. Get your trendy look for every season – we promise that such a manicure will remain fashionable for many years.
24. White Swirl Nails
Do you like unusual designs in your manicure? Then this idea for naturally-looking nails is definitely for you! A modern twist on nails is the best solution for ladies who want to make a unique pattern that nobody can repeat. It doesn't matter whether you have long or short nails since such a white design is suitable for all women.
25. White Chrome Nails
Do you prefer a monochrome manicure or classic nails with a modern design? Chrome white nail designs are definitely at the peak of their popularity. Overall, this idea is simple but unique at the same time. Shiny white nails are a manicure that suits any nail length. Moreover, modern nail salons provide an unlimited choice of shades, so every lady will find white nail designs she likes.
26. Pearl White Nails
Pearl white nails are the best idea for your special occasion! A classic white or milky color with light sparkles is a perfect way to attract attention to your elegant fingers. Moreover, such cute nail art can be combined with any wardrobe. Choose the design of your simple white nails and have a great manicure.
27. Green and White Nail Design
We bet you've never thought about combining green and white nails. However, we assure you that this idea is a perfect mix of summer colors on your nails. Consider a minimalistic green nail art with strict lines or nice patterns. We also recommend paying attention to a white French manicure with green tips.
28. Clear White Nail Designs
After all experiments, we often return to classy nails. For instance, even though French manicure with white tips seems too simple and boring, many women make it regularly. And if you want to avoid complicated designs and get neat nails for everyday wear, don't forget about nude shades that are always in trend.
29. Yellow and White Nails
We all need a lot of bright colors in summer, which makes the yellow nail design a perfect solution for the warm period. Consider making a unique French manicure with yellow nail tips if you want to combine it with a white base. A gorgeous idea for elegant ladies!
30. Orange and White Nails
Bright orange nails will never lose their relevance, especially during the summer. This color is perfect for all nail shapes, and ladies often use it for making different unusual designs. It's time to turn on your imagination and develop the best nail art. For instance, you shouldn't forget about orange French manicure or ombre with white.
31. White Flame Nails
Think about making an unusual bright accent if you like wearing long white nails. For instance, a flame design is the choice of numerous women since it's stylish and attractive. Ask your nail technician to draw such a pattern, and be ready to receive dozens of compliments. Remember that it's not the best idea for ladies with short nails. However, you can always make acrylic nails and enjoy such a manicure!
32. White Abstract Nails
Abstract white nails are the trendiest way to get an unusual manicure. Come up with your arts and draw them at your fingertips. For instance, geometric nail art is increasingly common. The selection of modern white nail designs is enormous!
What Are the Top 10 Trendiest Nail Colors in 2022?
Are you ready to check your nail polish collection? It's time to learn more about the trendiest nail colors in 2022! Of course, nude, white, and red are considered timeless classics, so ladies mostly prefer them. However, there are numerous fashionable shades, and we would like to highlight the best ones:
Gorgeous wine red.
Lavender, is the color of the year according to Pantone Institute.
Elegant gray with glitter.
Deep blue, reminding of the sea.
Bright yellow, reflecting the sun.
Elegant deep emerald.
Calm, warm pink.
Classic olive color.
Bright orange in different shades.
Milky color, which is a perfect alternative to white and nude nail polish.
As you can see, the choice is enormous. We are confident that every woman will find something according to her preferences. Pick what you like and save the best ideas to show your nail technician on the next manicure appointment.